Atlanta Fly Fishing Club – Wednesday, May 8, 2019
Food and social start at 6 PM and speaker starts at 7 PM
"Problem Solving with Big T"
Big T will go over what you should do to improve the odds of catching trout based on the conditions present.
Bio: Stephen Tomasovich
Born and raised in Atlanta GA, Stephen aka "Big T" found his love for fishing in Michigan, where his family would take an annual vacation to visit Grandpa Ray. Once he caught the fishing bug it never left, and anywhere he found a body of water he had a line wet.
Big T mainly fished for warm water species in ponds, on Lake Lanier, and Lake Hartwell. He would frequently pull a fly rod out to throw poppers to bream and bass.  Big T's species of choice and love of fly fishing changed several years ago while driving across the Chattahoochee River. He fell so in love with the pursuit of trout on the long rod a few years later he would make a career out of it.
Big T is the owner of Big T Fly Fishing, an online Fly Shop and Guide Service.  As a member of Team Dead Drift, "Georgia's First Competitive Fly Fishing Team", he has several top finishes.   In addition, he serves as a mentor in the Re:New program at Browns Bridge Church and is on the Board of Directors of the non-profit North Georgia Trout Online.  He currently resides in Suwanee GA with his wife and son.
Atlanta Fly Fishing Club – Wednesday, April 10, 2019
"Fly Fishing the Upper Chattahoochee River- Outside of Trout Country"
Jake will discuss possible warm-water fishing opportunities on the Chattahoochee River. This presentation will include some of the unique species and the story they tell, along with tactics and techniques to pursue them.
Bio:
Jake Darling is a native to the north Georgia area, and first picked up a fly rod at the age of 5 years old. Fly fishing was always big deal in Jake's family, and has always been a center point of his life. After following his dad and many of the Unicoi Outfitters team members around on many of the local streams, Jake pursued his dream of being in the fly fishing industry.
Jake began guiding for Unicoi Outfitters at a very young age, specializing in both wade and drift boat fishing for trout in local freestone streams and tailwaters across the northern portion of the state. After a few years of guiding full-time, Jake shifted to the retail side, where he is now the Manager of Unicoi Outfitters, and also continues to guide.
 Jake cut his teeth guiding for trout, but much of his guiding now is centered around the warm-water scene for shoal bass and striped bass in various rivers across north Georgia.  He loves catching these fish just as much as anyone, but one of Jake's main goals is to bring awareness to the uniqueness and beauty to these resources, along with the story they tell. Jake is a member of the G3 Boats Field Staff, Scientific Anglers Pro Staff, an Orvis Endorsed Guide, and has also been featured in magazine publications and various television shows.
Atlanta Fly Fishing Club – Wednesday, March 13, 2019
WHITE BASS 101
It's almost spring. Can the white bass be far behind? Every year about this time, fly fisher's hearts beat a little faster as folks get ready for the annual white bass run. During the run, which traditionally peaks about the time the dogwoods bloom, large numbers of white bass make their way upstream from lakes into rivers and streams – and when they do, if you're a fly fisher, you may think you've died and gone to heaven!
Steve Hudson, our speaker this month, will bring you up to speed on white bass so you too will be ready when the fish arrive. We will look at the when, where and how of fly fishing for springtime white bass. We'll talk about the timing of the runs, the gear and flies you'll need (including a couple of secret fly patterns!), on-the-water techniques, and several great places where you can try some white bass fishing on your own. This program will give you all the info and insights you need to get in on the fun and excitement. Believe it: A good day of white bass fishing can be a day that you never forget!
ABOUT STEVE HUDSON:
Steve Hudson, a writer, teacher and lifelong fly fisher, says he may have the best of all possible jobs – one that lets him share the excitement of the fly fishing with others. An award-winning journalist and illustrator, he has written extensively on fly fishing, fly tying, hiking and travel.
Steve is the author of more than 30 fly fishing and fly tying books, including the acclaimed "101" series of introductory fly fishing and fly tying guides. His newest book, CHATTAHOOCHEE TROUT, is a 328-page guide that's been called "the definitive work on fishing for trout in the Chattahoochee River." This comprehensive volume covers all of the river's trout water – from the headwaters where the river comes out of the ground near Brasstown Bald, thorugh the upper Hooch, and every bit of the upper and lower tailwater.
Scheduled for publication later this year are books on small-stream brook trout fishing in the southern Appalachians, a guide to fishing for shoal bass, and Volume II of Fly Tying Tools You Can Build.
Steve is also the creator of the TIE IT & TRY IT series of fly tying kits. Each kit includes a detailed 20- to 28-page book designed to teach you how to tie each pattern, along with materials to tie of plenty of flies too. Currently in the works are several exciting additions to the TIE IT & TRY IT series, including kits focusing on the Gold Ribbed Hare's Ear, the Tellico Nymph, the Prince Nymph, and more. In addition, a complete fly tying kit (including materials and tools) based on the book FLY TYING 101 should be out this spring.
Steve is also putting the finishing touches on FLY TYING FOR KIDS, a special kit (including materials and basic tools) designed to help young people discover the fun of fly tying.
When not busy writing, Steve enjoys teaching others about flyfishing, fly tying and the out-of-doors. He is a frequent speaker and teacher on hiking, fly fishing, fly tying, and outdoor recreation, having led seminars and workshops from Alaska to Florida.
He also enjoys music and does "a pretty good job" on the bass guitar. He is also director of handbell choirs at Alpharetta First United Methodist Church, where he heads up a fly fishing-based fellowship program.
Steve has three grown children (and two grandkids, which he will talk about endlessly if given the slightest opportunity). He lives in Alpharetta, Ga., with his wife Ann, Zoe the cat, and Ellie the Miniature Schnauzer.
Steve can be reached at (770) 329-7642 or via email at info@chattahoocheemedia.com.
Atlanta Fly Fishing Club – Wednesday, February 13, 2019
Jimmy will be talking about Southern Saltwater Fly Fishing Magazine and the destinations the free online e-zine covers. He'll also cover his latest book, Brook Trout in Dixie, which explores the range, history and lore of our native Southern Appalachian brook trout.
Jimmy Jacobs has been fishing the trout waters of the southeastern states for almost 50 years. He was the editor of Georgia Sportsman magazines for a quarter century before retiring in 2014. He presently is the Georgia Editor for Don Kirk's Southern Trout online magazine, as well as the editor for Southern Saltwater Fly Fishing Magazine.
He also authored the books TROUT FISHING IN NORTH GEORGIA, TROUT STREAMS OF SOUTHERN APPALACHIA, TAILWATER TROUT IN THE SOUTH and BROOK TROUT IN DIXIE.
Jimmy is a member of the Florida Outdoor Writers Association, Georgia Outdoor Writers Association, and Southeastern Outdoor Press Associations. In 2015 he was inducted into the Georgia Outdoor Writers Association Hunting and Fishing Hall of Fame. In 2017 he also was elected to the Fly Fishing Museum of the Southern Appalachians Hall of Fame and the Georgia State University Athletics Hall of Fame.
Atlanta Fly Fishing Club – Wednesday, January 9, 2019
"Fly Fishing for trout Jackson: The Snake, The Green, and the secret Nevada Creek." – Jean Bruun
Jean Bruun will share tips and techniques for three of her favorite waters around Jackson: The Sn
ake, The Green, and the secret Nevada Creek. Whether you've fished the West for years or are considering your first trip out, Jean's presentation will offer useful and unique information that can replicated in your own home-waters.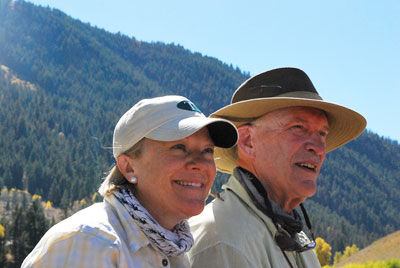 Celebrating her 25th year as a professional guide, Jean Bruun's professional experience ranges from the great Western waters of Colorado and Wyoming to the chilly waters of Alaska to the jungles of Brazil. She's best known for her expertise of the famous rivers around Jackson WY, her home.
Our own Michael Williams has known Jean a very long time. "Although it seems like everyone and their brother is a guide now in Jackson Hole, Jean has paid her dues and is easily one of the most respected guides on the water. She's the guide that the other guides follow on the river. She won't tell you this, but Jean placed 3rd out of 40 teams when she guided her first Jackson Hole One Fly competition. That's an incredible accomplishment".